My vacation has now officially started, its thursday morning and there is a long list of to-dos for three and a half weeks of time.
What is the starting situation?
Well, first of all, i got some support with another Boba Fett, who's sitting on my monitor. He complements the star wars theme with the two lego flyers, the x-wing miniatures game and the Boba Fett dice holder (you remember?).
And no month without something new for I-Munda / Zombie games, an ork battlewaggon. I already started converting it, having a heavy duty or security vehicle for the underhive in mind, that got re-posessed by a Gang. The second use of the model should be some heavy support or last chance for the survivors in zombie skirmishs. Its a great kit with plenty of bits.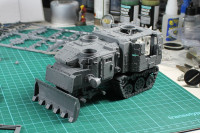 There are a few work in progress on the table and i want to use the majority of the time, to get some painting done. In the schedule are some other wargaming related activities like the completing of several reviews (a few teasers can be found in the pictures below) and 2 projects where I am involved as a consultant.
If things work halfway planned, i should be able to give you an update this evening. Stay tuned.
Enjoy this article?