Even in the afternoon many visitors came to the Show and were greeted in a friendly way by the liason officer Along with the free miniature, that was included in the Games Day ticket.
Nick Eyre, from North Star Miniatures, brought a really impressive Pike & Shotte table to the show, that you don't want to miss.
That was accompied by a smaller skirmish table with In her Majesty's name.
On the stage was a large painting table, where you got some lessons and advices. The open workshop attracted the young and old.
"Setting the East Ablaze" was shown on this tank heavy desert table. An unsual eye-catcher not only for tankers.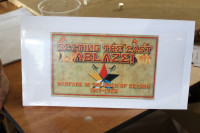 A long day has come to its end and around 5 p.m. the show closed and dismantling of the tables and booth began.
It was an incredibly interesting and vital day. A great event with a lot of charme and impressive amount of visitors for a premiere. It was great for me to see other german visitors and on top of that to have met some "wargaming royalty" like Andy Chambers and Rick Priestley.
At 8 GBP for the ticket, it is a real bargain and on top of that you get a free miniature. The organisation was smooth, there was catering. To make a long story short, it was a great day and i'll be back, that is for sure and am looking forward to see many of the people i met again at Crisis and Spiel.
Link: Warlord Games