A brief sign of life after this exhausting weekend. I build the new Eldar wraithguard earlier this week. The kit is quite nice with a lot of options, but the price is pretty ridiculous ... never the less, thanks a lot to Christian and Alexander from MiniWargames Wuppertal for the Box.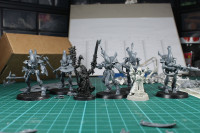 Food becomes more and more important in the hobby blogs, there fore i want to explain, why it was an "exhausting" weekend. I am just recovering from itis / food coma. My family had a small summer party and there was plenty of spanish and german food. Yummie! There were huge amounts of leftovers, so my sister and i got plenty of tupperware containers and my refrigerator is maxed out.
I used the afternoon taking a closer look at the Spartan Scenic Starter (i bought it at Fantasyladen in Mainz along with the resin accessoire kits). The big box is filled up to the max with mdf and all the parts easily cover a whole 4 by 4 foot table.
The quality is quite good, the cutting and details are clean. Unfortunately the box had a damaged sheet and a wrongly cut part in it. But it was easy to fix. Never the less, for 95 Euro you get a load of stuff and the amount of details is amazing. I can't say anything about the fitting, as i still have to build it, but i will keep you posted on that one.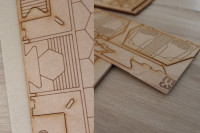 The starter box covers a 4 by 4 foot table almost half and is very modular. Together with the resin accessoires you get a feeling, how it will look like in the end.
This kit will not only be used for gaming, but although for telling stories and setting up dioramas and scenes, for example for I-Munda. Talarion has shown this already on his Wuerfelwiese Blog, in the Dust to Dust article.
That's all from me for this sunday. I hope you had a great weekend and like the Vlogbrothers say, Don't forget to be awesome.
Enjoy this article?