This weekend was the "Long Night of Museums 2013" and i took the camera with me on my trip through the city.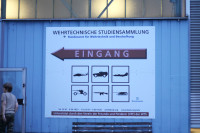 Koblenz, a former garrison town, has/had many barracks and not only in modern times, but also much earlier, over the Thirty-Years-War back to the early Roman castles on the Rhine. One of the museums that we visited during the long night, the Wehrtechnische Studiensammlung (Scientific Collection of Defence Engineering Specimen).
The Wehrtechnische Studiensammlung (WTS) of the Bundeswehr in Koblenz is one of the largest technical exhibition in Germany. The focus is on the military technology.

The WTS is available to the public. It doesn't want to be a museum but provides a topical, hard to find wealth of illustrative material about development of weapons, gear, equipment and uniforms from the early 19th century with a focus on the Bundeswehr.
Already at the entrance you can see field guns and tanks, but as wargamers i want to start with the scale model of military vehicles.
A broad variety of tanks, mostly from world war II, were displayed in the cabinets. Beautifully build and painted.
But it wasn't all about world war II. So you could find vehicles from the korea or cold war as well, along with impressive conversions like the cut-in-half Tiger I showing the interior.
There are some nice ideas for camouflage paints and projects, not just for "tankers" and historic wargamers.
Due to the huge amount of pictures, this article is split in three parts. Next up heavier calibers.
Enjoy this article?