The tanks are organized? Check. So what next? Opening up some goodies that came in the post the last days.
What's first? Well Four A Miniatures delivered, i ordered Creature from the Black Lagoon and ALF. Casting looks good, everything went quick. /me happy.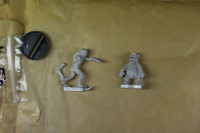 Then some smaller piracy - in other words Dwarf Pirates. Arrr! First try with the new casting material from Black Scorpion. Pretty similar to finecast, but way better quality. Far less bubbles, less clean up to do and miles better prices. Just need some matching Freebooter Bases, i already pre-ordered.
Last but not least, the two latest boxes from the Infinity Dire Foes Sets in current WIP-Building, now waiting for the delivery of boxes 1-3. Nice idea, good artwork, but all in all, a bit empty. 30 Bucks for 3 Miniatures and 5 Postcards. I thought the mission packs would have been a print out instead of pdf download. But never the less, impressive miniatures with good casting quality, like we are used from Corvus Belli.
Next up, i must paint some Khadorians. Must ... well, have to, so i can check that off my to-do list.
Enjoy this article?