On Sunday, march 16 2014, Franz and Werner invited for the spring Bitbox to Mülheim an der Ruhr. I followed the invitation, like many others. I want to make sure, for editorial reasons, that the parking lots are seen.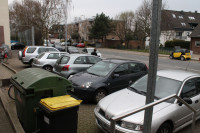 The event, that would actually open up 11 am, was already busy as the vendors were setting up their tables and others were lending helping hands to finish the set up. And at that point the first deals and bargains were made.
The hosts, Franz and Werner were happy, that they could be as the crowd was getting bigger and bigger. Another nice aspect, that i noticed, was that the ranges and offers of the vendors became broader. So beside Games Workshop products you could buy smaller systems, like Uncharted Seas oder Dropzone Commander. But some vintage and older miniatures, like Ral Parta or Marauder Miniatures.
Mirco Wenning was there again with Stronghold Terrain and used the chance to show his newest acquisition - SAGA in german. Beside that you could buy products from his range and look at the painting vikings.
Did i mention the Bitbox was well attended? Oh boy, it was. And just in the middle there were two smaller gaming tables, hosting Freebooters Fate.
Die Loot-bags were loaded pretty good, the wallet empty and some precious and rare miniatures were bought.
The bitbox was more than worth the visit. My personal loot can be seen over here, 5th Bitbox. Thanks again to Franz for the great organisation! Looking forward to the next time.
Enjoy this article?