I am back from the 5th BitBox, the first in 2014. Boy, what a blast! And what bargains i could gather.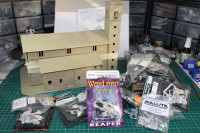 So what do we have here, let's start with the Building. It is a Church from Italeri and in 1:72 but fits 28mm quite well. Only thing to do for me, is swap the smaller doors. I took some pictures of it next to 28mm Bolt Action figurines, it works quite well. And for just 8 Euro!
And there was a lot of GW stuff on sale. Daemonettes 50% off, cultists from the Dark Vengeance Starter Box for a 10er, 5 blisters for 1 (!) euro each and Zaggstrukk in pewter for 10 bucks. Best of all some good deals on limited miniatures, a big weakness of myself. The Mask Minis Santa Claus, the Salute 2010 mini and Mini Art Con event mini.
And then there are a few single miniatures from the collections of Werner Klocke and Franz Sander. And yes, that is among others an '88 Ambull, a '85 Ogryn, a rare Space orc (actually one of the first ever released) and two old chaos renegade space marines.
Once again, Bitbox was worth it, looking forward to the next one. And stay tuned for the detailled coverage tomorrow.
Enjoy this article?