Just a quick heads up, what is going on currently. While i just finished the text, for the Imperial Knight Review (coming next monday), i want to show you some pictures of my latest additions.
I found this idea over at Stronghold Terrains Blog, Elmar did get his hand on some Fleischmann Magic Train. They fit perfect for 28mm / Bolt Action, as you can see. I got myself a nice little set of 6 at eBay for 20 bucks. They need a little paint, and then they are ready to go.
Ulisses was dropping some ranges and having their spring sale, so i took that chance to get me some miniatures. Beside that, some long awaited back orders finally arrived (primary the Infinity Stuff). I'll cover some of these in upcoming reviews.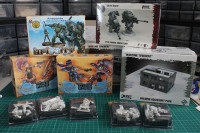 Oh and thanks to Andrew, he send me some sprues of their upcoming Deadzone Terrain Range, to toy around. After i saw a picture on Facebook on that range,  i am really looking forward to try some stuff with these sprues.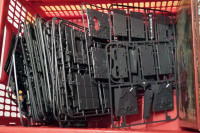 Enjoy this article?