Where do we beginn? Let's do a sum up.
The Worlds Weekend was great. Chapeau! to the traders that participated and offered their goods for nice prices. I took the chance got myself some treats. Ainsty Castings Resin parts, a few Lord of the Rings blisters (what for? you will see...), Saga Dice, the new Saga Crescent & Cross Rules and the nice ruler from the Worlds Saga Tournament. Bäm! Oh and i got the Leopard 2A6 from Empress Miniatures at the Worlds!
Together with some board / eBay shopping, like the nice E-75 from Heer46 and some more Matchbox Models of the Yesteryear cars.  Thanks to Fantasy Warehouse for the Saga C&C Rulebook and World of Tanks Cardgame.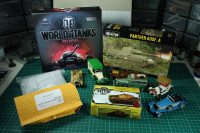 Last weekend there was a scale modell show in a town nearby. Quiet a lot visitors, but a bit lack on the variety, lots of german world war II tanks and nothing that make my jaw drop. But a few nice dioramas, and the african city center that cought my attention.
I haz a happy! Bolt Thrower is back on tour and i am going to that show, after 12 years! Show was sold out so it was kinda tricky to get some tickets.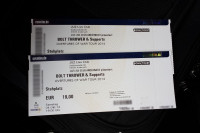 What could be in this big box? Well, let's take a look. Very neatly packed ... it's 3 Lord of the Rings Armies. Or in other words about 30-35 Points of SAGA. Currently adding some more pewter miniatures to that collection for the hearthguards.
This isn't going to be the only Saga Project. There will be even more Saga going on. A bit of Westeros themed powered by Perry and more historical with these Romans (I had these laying around, just gathered them for the picture / the project.).
I did some review preparation today. I'll keep you posted and have a nice weekend.
Enjoy this article?