Clipping parts from sprues, getting rid of mold lines and assembling them. Busy, busy. I built the Universal Carrier and the Panther Ausf G from Warlord Games yesterday for upcoming reviews, along with the Warzone Starter of the Brotherhood.
About the tanks, quite a good fit. I modified a few parts. I did a head swap on the british vehicle, as i like the more detailled heads from the infantry boxes and added a bit of gubbins from the Commandos. On the Panther i modified the Schürzen to show battle damage. On the Warzone starter, well i will go into detail in the review, but let me say. The miniatures shown on the box, aren't the one inside it ...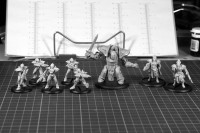 I already promissed some SAGA in the last update, today i build 2 sets of Levies, one with slings and the other with Javelins / Spears out of the Dark Age Warriors box from Gripping Beast. The Hearthguard and Characters are from Musketeer Miniatures. The Warriors are Gripping Beast Saxon Thegns. All equipt with spears.
So currently these are 2 points levies, 3 points hearthguard and 3 points of warriors. I am thinking about adding a mounted hearthguard unit along with a mounted warlord.
Next up will be some basing and building of the Perry WotR Troops for SAGA.
Beside that, the date for the next Bitbox is announced. Sunday, the 28th September! So long and have a nice remaining sunday.
Enjoy this article?