I promised further progress on my Anglo-Saxons, and so i did. First of all, a little thing i like to share. I mark the bases underneath with numbers and letters, to keep track of the squads / troops organisation. This is something, i find usefull especially with for example crew members, so can keep them together if they are seperately based.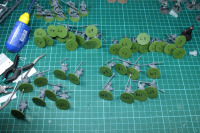 And i did some scratchbuilding on the Lokomotiv. The roof is done and i am not sure about the funnel, but i prefer the red one. Those are caps from medical supplies a friend of mine gave to me. Quite easy and fast solution for funnels, exhausts etc.
As for the Anglo-Saxons, a huge chunk of grey stuff was used to build up the underground on these bases. It took quite some time, as i wanted to get rid of the hard steps that the small socket leaves after glueing sand onto the base. This is the first step, next up i'll add some cork and then they get sanded. I am going for a similar look as with the Napoleonics. They aren't for a project, just 3 models for scale purposes.
So long, have a nice sunday!
Enjoy this article?