Back for a last update before christmas.
I continued on building tanks, after converting the Shermans. So i got my hands on a Panther Ausf. A from Rubicon Models and a SdKfz 234 Puma from Warlord Games. I filled the large turret hole in the chassis with a renedra base and some putty. So what is the final product? It's a Aufklärungspanther, a fictional build that is known among others from World of Tanks. I have to be honest, the Ausf. A wasn't the best base for the conversion, if you want to do it, i'd suggest the Ausf. G.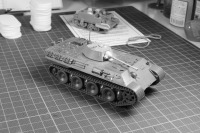 On an other note, i did what i do best, glueing miniatures to bases. So i did this with the Bolt Action Kriegsmarine, Lord Lovat and Command, as well as the Wehrmacht Troops with IR Assault Rifles.
A friend of mine made these bases for my cavalry. I chosed rounded 25x50mm bases for mounted troops. Why? Well, these can be used for Saga, for Lion Rampant and with the use of multi-bases for impetus and other systems. So why these and not the regular 40mm round bases like in Saga or LotR/WotR? Of those you can only fit 2 into a multi base, these rounded ones will make me able to fit onto a multi-base.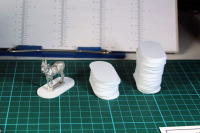 To keep on track about basing. I prepared the Freebooter Bases for my Black Scorpion Dwarven Pirates. I used some washed up bits as well, to pretty up the bases. For some impression of the final dwarves, see the 2nd picture. There are no dwarves in Freebooter, and i like the Black Scorpion ones. Beside that, due to their new resin, the whole gang of 14 figures is just 31 GBP.
As i said, the tank building continued. And after building two Panthers and a Tiger from Rubicon, i went forward onto a resin tank. The Marder III Ausf. M from Warlord Games. Nice cast, a bit bended tracks, but nothing to worry about. The only thing that really bothers me, is the missing or non-existant assembly instruction. I'll put up a detailled review next year. The Marder will reinforce my Dt. Afrikakorps, so i'll build a closed canopy - fitting the desert operational area with lots of sand and dust.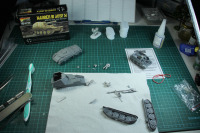 I started toying around with the bits. I put the Pak 36 inside the Marder, way to small. Funny to think that the early ones had a PaK 36 gun mounted - but the russian 7,62 cm, not the 3,5 cm version. So what about the PaK 36  Träger Fahrgestell Bren (e), but with a PaK 40. Funny looking, but what to large. What i have to say, the SdKfz 234 with a PaK 40 turret looks good. Actually they build a SdKfz 234 with a PaK 40, as the SdKfz 234/4, but without the turret. The gun could be a good basis for the WT auf Pz. IV that i am about to build.
And what did i do today? I visited a friend with a huge collection of board games, and we played Rivet Wars and Star Wars Imperial Assault. Yes, Imperial Assault! It arrived this very day, a nice and unexpected christmas present. Oh boy, oh boy, oh boy!
A really entertaining day, after some last minute shopping in the morning and some really enjoyable gaming in the afternoon. I wish you all a merry christmas and happy new year.
Enjoy this article?