A while ago, actually roughly 2 years ago, i bought over a couple of month the majority of the Spartan Scenic Sci-Fi System boxes. Beginning with the Starter Set in September 2013.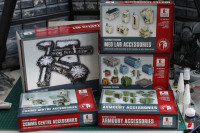 To the Starterset SGSS01 (RRP 90 GBP), i added Towers & Platforms Set (SGSS02, RRP 67 GBP), Corridor Set (SGSS03, RRP 39 GBP) and Room Set (SGSS04, RRP 56 GBP), along with some of the resin interior sets. Combined that gives you a lot of MDF sheets, like you can see below.
Unfortunately the quality is only moderate, so parts were only partly cut or not at all, which made the whole preparing of the single parts a lot more work than necessary. Some parts of the mdf were bend or even broken. The price isn't that low, so i expect a bit more quality controll on these kits.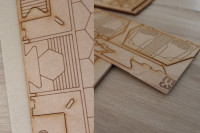 After a lot of cutting and filing, i ended up with a 4 by 4 table filled with the single parts and a huge tower of empty mdf sheets. Quite impressive. It took me about 3 evenings to cut out all parts from the sheets and clean them of smaller bits and remainders.
The biggest issue about the Spartan Scenics are the instructions. Below you can see the combined instruction sheet for all sets. At first it doesn't look that bad, but if you start building, you will occure some mistakes they made in this instructions. For example the tower and hub uses different pieces of pillars - which isn't properly shown, in the half-hex room one piece is shown in profil, so you see only a straight unidentifiable line. That is just ridicolous and could be done much better. I scanned the QR codes and was redirected to the Spartan Games homepage, where i found some product pictures that helped me with the building a bit. Really just a bit...
Beside that, there is still no proper information how the decorative plates are added or where they even belong.
The parts are a tight fit and can be assembled mostly without glue. In many cases the fit is to narrow / tight and you need to file the slots a bit or you will end up damaging one or both parts while you are forcing them to fit together. I know, MDF can vary in thickness a bit, but i prefer them beeing slightly to thin and need to use a bit of glue instead of filing everything to lock together.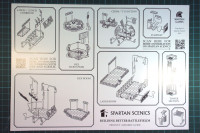 I'll keep you updated on the building process and show you some variations and set ups you can use on a 4x4 or larger table.
Enjoy this article?