On wednesday, August 5th 2015, gamescom 2015 started for the trade visitors and press. On thursday the gates will open for everybody.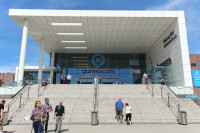 Sorry, you have to do it this time without the parking lot pictures. I travelled to cologne by train. Yeah, by train ... my dear friend, but that is an other topic for another article. Gamescom sold roughly 350.000 tickets and on wednesday it should be a bit more "calm" or exclusive, we'll wait for that. At the entrance you didn't really note that at all, but later on in the hallways and especially in hall 5.1 the crowd spread out.
In the lavish halls of the publishers and developers, were tons and tons of displays and overstimulation. But among others, really long queues, for example at Bethesda (Fallout 4) you had to wait for more than an hour. Other hot releases, like farming simulator, were faster to come by.
Here and there were smaller booths, with different products like hardware, accessoires and merchandise. This racing seat was not really satisfying, but most likely cheaper than the other versions are few booths futher down. Roccat (not pictured) will release a nice keyboard mouse(pad) combination called SOVA, that give gaming on your couch a much better experience. And it will be play and play for different systems, among others the new steam link.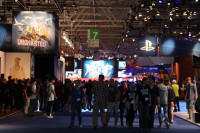 From far away i spotted a familiar logo, that rarely or never failed as far as i remember (i really can't remember ever being disappointed by a Blizzard game that i bought). Taking up almost half the hall, the booth covered the big brands from the Blizzard group, for example a tavern for Hearthstone (along with a sign that i only know from amusement parks). And we had the chance to give Overwatch a try, which is available for battle.net users for beta sign up. Interesting combination of MOBA and Team Fortress, with a lots of different classes.
The other big brands like Warcraft and Starcraft got attention as well, with really nice detailled Displays like this life-sized pylon and figures from the upcoming Warcraft movie.
The gallerys and the outside area (shown below) were really inviting for relaxation. After all, it was great weather in Cologne.
Countless manufacturers had their concepts for virtual reality with them, from the spec systems like Occulus rift up to the more extensive systems like the Virtualizer by Cyberith. Almost all time slots for the presentations were booked.
That's all for part one, more impression from the gamescom 2015 in Cologne, in part II.
Enjoy this article?