I introduced the spanish Crusaders a while ago. And i want to share the current status with you. The bases were prepared with spackle, pva and sand.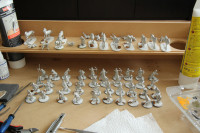 Next up white primer, i used Army Painter matt white. No zenital, two color priming this time, straight forward old school plain white. If you use Army Painter as well, please read the instructions and follow them. Naturally, no matter how much time you spend on getting rid of mold lines, you'll find some while painting .... *grrr*. I started with the skin, using bronze fleshtone (Game Color 72036) by Vallejo.
I gathered a palette of reds and browns for the project, across the board, Citadel, Vallejo, Reaper and Army Painter.
The earthy brown tones were applied in two thin layers, gave a nice natural, and toned down look for the poorer soldiers of the Warband. You can see the difference between one and two layers of thin brown on the monks (the cloak has only one coat, the clothing two).
The Citadel dark flesh, out of production, makes a great reddish-brown as well, just had to use it.
More color on these soon. Thanks a lot for reading, come by again soon and leave a comment if you like this blog!
Enjoy this article?