Next up, another regular at many shows, is the Fantasy Warehouse from Iserlohn.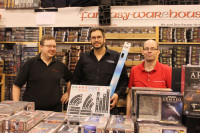 Carsten began with a brick&mortar and online shop and grew over the last years, to one of the larger distributors and whole salers in the german wargaming market. The rather large booth covered different fictional and historic settings, among others a Saga table, a game that Fantasy Warehouse distributes together with Stronghold Terrain in german. Together with Fischkrieg (by Ralf Siedek from Heidelberger), he started a new brand of gaming mats and tokens for X-Wing.
As the german distributor for Rubicon Models, he invited the company to the show in Essen, and they followed that invitation. You can see them here with Denis Schumacher from Heer46 (middle) and Carsten from Tightheaddrop (right). They had the novelties of Q3 / 2015 with them, along with some prototypes of Q4 / 2015 and next years releases. I was lucky enough to receive a set of yet unreleased decals for the german tanks. Had a long talk with the guys, and you really feel that they are passionate about their product. And they have some interesting goals for next year, releasing up to 20 kits! That is going to hurt my wallet. At the show i secured myself the Opel Blitz, as i need those for my Afrikakorps.
A newcomer to the market and the show is Tobias with Kraken Wargames. He is from the Ruhr area and will release a Kickstarter in Winter 2015. Kraken Wargames offers 6 x 4 ' gaming mats, with high quality motives and material. They don't do the design just digitaly, but they build the actual table and take pictures of it, post-process them digitally and then produce the gaming mats. Gives them a nice touch. Looking forward to hear more about them.
Games Workshop and Forge World were there as well. Forge World most likely is going to win the price for the most appealing booth with all that cardboard ... GW didn't sell anything beside the Age of Sigmar starter at their booth. My thoughts on this? Well, they were there and as it seems, i am too old for that stuff. Never mind, bringing their cash machine space marines to fantasy was a bold but not dumb idea, and it seems to work for them.
Titan Forge was one of the first miniature company that i saw at the show that day. There are far more than just a supplier of resin miniatures, but even offer board games like Lobotomy and Armymals.
They are expanding their former fantasy heavy range with more options, going to sci-fi and genre-overlapping products as well. Some products are surprisingly low prices, like the Zeppelin for just 32 euros.
More Coverage in Part III of my Spiel '15 impressions.
Enjoy this article?