I am back from a long day at the Internationale Spieletagen SPIEL '15 in Essen. Oh Boy, what a day! The journey began with a solid traffic jam (there were problems with the local traffic in Essen, so many people who normaly would have taken the train, came to the show by car ...) and the first time a rainy day at show. Never happened to me once in the last decade. But never the less, i spend a great day at the show, and i want to share my impressions with you.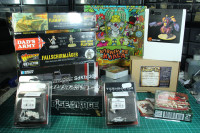 The Spiel is a great show, if you are into board games and such. But don't forget, i am a wargamer and miniature enthusiast, so my focus is more on that. You see that from the things, that i brought home from the show. Less actual games, more miniatures. Let me got into detail on that in a minute.
At Warlord Games, i got myself some nice Bolt Action kits, that you can expect to be reviewed, like the Flammpanzerwagen, the new Fallschirmjäger along with the brand new Empires in Flames supplement book for the far east. Got a my eye for a long time on Dad's Army, and bought the box with the british television theme as well. What about those Terminator Blisters? To be honest, i don't play the game, but if you have the chance to buy Arnold Schwarzenegger, sculpted by one of the Perry Twins, in "Gods Scale" 28mm on a bike and on foot along with Khaleesi, you don't think about that twice. At Osprey Games, i got myself Secret Santa and had a great talk with Joseph McCullough, who wrote the Frostgrave rules. The other kits and boxes, i'll talk about together with the pictures of their booths and stands.
The show was crowded (up to a jolly level, it wasn't to many people) and the Spiel is commonly a participation show, where you got lots and lots of opportunities to try out the games before you buy them. As you can see above in the middle, Voodoo Games with their colorful Karnivore Koala game, that was kickstarted. It has such a appealing design, i just had to get the game along with the GraverobBEAR expansion! And i met my dear friend Noel, along with his club Ad Arma.
Board Game Geek, the huge community even had their own booth with live streaming and coverage from the show. If you are into any kind of board games, BGG is a must visit.
But let's get started with the wargamers novelties and must-visits. A regular host at the show and arguably a must visit, is Werner Klockes Freebooter Miniatures.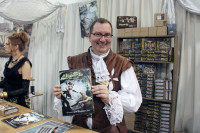 The pirate crew spends a lot of time preparing the show, the theme is carried out by everyone with their costumes and amazing gaming tables.
So beside a sea-side gaming table, where you could get in touch with the naval rules of Freebooters Fate, you got a lovely city table, using the 4ground mdf houses further improved by Franz. And of course, what would such a show be, without novelties? Unthinkable! And by that, Werner went the extra mile and not only brought new releases and a limited miniature, but a limited diorama. Did i mention zombie octopuses? Well, now i did.
Plastic Soldier Company brought their World War one themed board game with 15mm scale miniatures (and tanks!) to the show. The Great War uses rules based on Memior '44, and won't stop there. There are further expansions and epoches planned. Beside that, you get nice plastic miniatures in 15mm / 1:100 for world war one...
More Coverage in Part II and III.
Enjoy this article?