We leave the vendor hall, and head over to the Workshop and Manufacturers.
While i was talking with Fernando Ruiz, who has a fine range detailled kits, we met Michael "The Painting Buddha" again, and teamed up for this nice group picture of painting Buddhas. Fernando is very busy preparing something big. Let's say, you will go Nuts, when he's finished.
The centre lane of this hall was completely dominated by mediterranean companies. I had to chance to use my rather poor spanish with some of them, but i had some really nice chats with all of them. Not a Spaniard, but an Italian living in Switzerland is Aradia Miniatures. His range is well known, for example the Toad King, which was painting among others by Massive Voodoo. There is going to be a bigger colaboration of the mediterranean companies, as they will launch their own range in 2016, the Mediterraneo.
Between Fernando and Aradia was Michael Kontraros, but beside a few miniatures shots, i missed taking pictures of the booth. My bad, sorry for that.
Across the gang way, was Scale75. They usually do larger scaled kits and miniatures, but recently they did a Kickstarter with Fallen Frontiers. I remember that Kickstarter, as the miniatures were quite a delight. They had first test castings, which they sold of as single miniatures. The race of Riffs is amazing. Beside this, they have a Smog Riders range of cartoony versions from the discontinued Smart Max Smog Universe.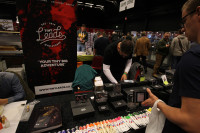 Tinyleads is another spanish company, with a fine range of busts and miniatures. Some of you may know the adventurers, unboxed at Massive Voodoo.
8th Collectible showed their skills live, and you could buy some of the sculpts for a reasonable price. Impressive to see somebody work such fine arts in front of everybody.
At this point i close the coverage and let the pictures speak for themselves. I took some close ups of the miniatures from the exhibition and workshop area. Enjoy!!
It was a nice weekend at Eindhoven. I met some really nice people and had the chance to see this impressive show. As a wargamer, it was something new, as the focus on different parts of your creative hobby. I liked the variation and broad options at the Scale Model Challenge. Something that i missed at many german scale model shows, after seeing the 80th Tiger I and incredible amounts of olive-green vehicles, it is nice to be at a show that shows more.
Was is worth the visit? Definitely! Will it become a regular event in my schedule, unlikely, more of a every 2 or 3 year turn. But that's just my 2 cents, as I said upfront, I am more of a wargamer than scale modeller.
Well, i hoped you liked my coverage, if you do so, feel free to leave a comment or give me a like on facebook, it really helps the project. Thanks a lot and have a nice week.
Link: Scale Model Challenge
Enjoy this article?