I did some painting this week! Along with putting my Airbrush to action, i gave the Zombie bust a first coat of paint. After receiving some feedback about which scheme to choose, i went with greenish skin (as base tone, but it will become more "fleshy"), grey shirt and blue trousers.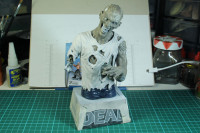 And some more for Frostgrave. A few years ago, i bought some fantasy blisters at FeenCon and Action. Never knew what i am going to use them, but now with Frostgrave around, i certainly have a proper use for them. From the left to the right, we are talking about a Reven Cyclops from Reaper (the goblin will be based separately), a Halbedier champion from Fantasy Armies, and a Troll Warrior from RAFM. The beastiary is broad in Frostgrave, so they are going to be used for some mayheim, well the Halbedier champion mostlikely as an templar.
At Crisis i found two really lovely blisters of a fantasy range by Crusader Miniatures. I bought CF001 and CF002, from which i use Jean de Moray as a Knight, Urko as a Barbarian, Ragner as a Infantryman and Alcibiades as a Apothecary.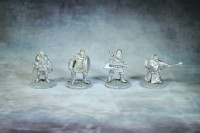 Thanks a lot for reading, come by again soon and leave a comment or give me a like on Facebook if you like this blog!
Enjoy this article?