Crooked Dice is currently publishing their 2nd edition of 7TV, a skirmish set up in cult tv shows. As such, a title like Danger 5 is way to interesting to say no, so the game design studio set up a themed box with matching miniatures and rules.
What is Danger 5? Well, it is set in a bizarre, 1960s inspired version of World War Two, action comedy TV where a team of five spies is on a mission to kill Adolf Hitler! Sounds crazy, well, take a look at this video.
The starter set is 25 GBP and comes in DVD box, padded with bubble wrap.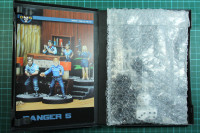 The contents are 8 miniatures (Tucker, Claire, Pierre, Ilsa, Jackson, Col. Chestbridge, Hitler and his dog Blondi) with round bases, an 8 page 7TV profile booklet (currently from the 1st Edition, but it'll be updated) and 3 Danger 5 dice.
Casting is clean and proper. Low amount of mould lines. All of the miniatures are single cast, so no assembling required. The sculpting was done by Ernst Veingart.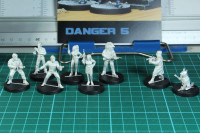 The proportions are solid 28mm heroic scale, and fit well with other manufacturers like Tsuba Miniatures (sculpted by Paul Hicks), Warlord Games or Hasslefree.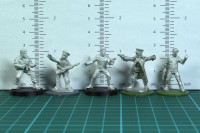 Set up with their bases the squad of 5 spies, looks like this.
And Col. Chestbridge (yes, he is an eagle), Hitler and his dog Blondi.
Conclusion
It doesn't get much more pulp or weird war than Danger 5. Dinosaurs, spies and bad guys. The box gives you a good start into it, setting you up with the profiles, 8 solid sculpted miniatures with proper casting and even a couple of dice. At 25 GBP it is reasonably priced.
You can download the rules for free including some cards, or get a start box for around 50 GBP (including lots of tokens, cards and two books). To expand the Danger 5 range, there are currently two sets of Nazi Soldiers with human or dinosaur heads, 3 miniatures for 9 GBP or a set of 6 each for 30 GBP.
In summary, crooked dice is a compact skirmish on a small budget, with lots of different settings to choose from, and the Danger 5 Starter Set would be a proper way to get you started.
Link: Crooked Dice
Enjoy this article?