Savage Forged Miniatures are a german company that offers small series resin casts in 38mm (~ 1:48) and 75mm, along with busts. I met them at Scale Model Challenge 2015 in Eindhoven, and acquired Stalker Zed for a review.
The miniature comes in a blister and is padded with foam. On the back you find a red label with a short notice. The price tag is 8,50 Euro.
Stalker Zed is a single cast miniature, no assembly is required beside glueing to a base.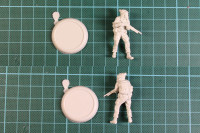 The scale of this range is ~ 1:48, and Zed measures 38mm from his head to his boots. This is quite larger than regular 28mm miniatures, even as the "scale creep" is continuing and many of those are getting bigger and bigger. Zed still towers above a hasslefree miniature and the terminator.
I decided to put Zed on a plinths instead of the round base. You can buy a couple of resin and wood plinths, some already sculpted, online. I went with a wooden dice and scratch build the surface with cork. As a resin miniature it is quite light and for that easy to glue and pin to the plinth.
Casting is on a really high level. Crisp and without any air bubbles or mould lines. Good level of detail, so really nothing to argue about.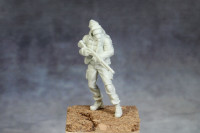 And to sum it up, a few different angles on the miniatur.
Conclusion
Reasonbly priced at 8,50 for a miniature that size, especially if you consider the small series and casting quality. If you are looking for something a bit more special to paint but not to fancy, this is highly recommended. As the scale is 1:48, you could use him along with some model kits for a diorama or similar.
I am quite satisfied with this one, so i ordered two more miniatures from that range. And from what i heard through the grapevine, we can expect to see more from Savage Forged in the no so far future.
Link: Savage Forged Miniatures
Enjoy this article?