Mid of the january we continued our painting projects. Flo on his - now enlarged - Mars Attacks collection, and i continued on the spaniards. I've added a few pilgrims as another 1 point selection to my crusaders. Those are perry miniatures codes CU26 and CU27.
The addition to the Mars Attacks starter box was a Feldherr case and the Humanity Resists! expansion.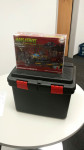 Florian kept on painting. Not bad results for a "greenhorn" into miniature painting, don't you think?
You remember the Snowspeeder? It is a revell kit and 1:52, seems a bit small, i'll prepare some short build report and scale pictures with 28mm miniatures along the Imperial Assault ones.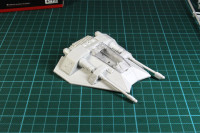 Oh and i upgraded the equipment of my DSLR, and added a second Yongnuo flash along with a controller. Have to toy around with it and participate in a workshop or two, to get it properly figured out, but it is coming along. Reason for that is the insufficient light from my daylight bulbs and to be more prepared for con visits.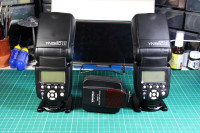 Thanks a lot for reading, come by again soon and leave a comment or give me a like on Facebook if you like this blog!
Enjoy this article?