Part of the Q4 / 2015 releases was Rubicons first stowage set, for the Germans. It covers a lot of vehicle accessoires, drums, boxes and bits of the german army.
Inside the box you find a properly filled sprue, two times. On the back is a detailed explanation of the content, from specific parts for SdKfz 251, Pz IV or Panther to generic parts.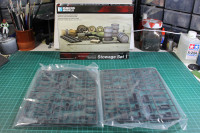 As you can see, no space was wasted on this sprue. Tightly packed with bits you get quite a lot from it. And remember, you get it two times. Cast is clean and crisp, unfortunately the wire nooses weren't fully casted.
After cleaning all bits from the two sprues, you are left with this. Massive yield and surely enough for one or two mid-sized army projects.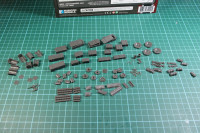 The boxes and drums can be used in terrain or scenery, or on vehicles, like the Opel Blitz to show the versatile nature of the transporter.
And of course, you can give your vehicles and tanks a more veteran, battle-proven look quite early in the process, just by adding equipment before giving them a camo pattern or hard weathering.
Conclusion
The german stowage set 1 is set around 14 Euro, which is a more than fair price for what you get. It is hard to get these items in the proper scale or reasonable priced, as plastic is mostly the to large scales of 1:48 or 1:35 or in 28mm in resin or pewter with similar prices but less content.
As most 28mm world war 2 wargames, like Bolt Action only put a few tanks and maybe a handful of transporters to use per army, a box or if you want to be more flexible two of this kit, should be a reasonable and sufficient addition to your bitbox.
The kit was provided by Fantasy Warehouse / Warehouse Games.
Link: Rubicon Models
Enjoy this article?