Gaming night, with Blood Bowl introduction and Bitbox preparation. So yet another cooking article on the chaosbunker, this time - KFC = Koblenz Fried Chicken.
Starting with a 1,5 pound of chicken breast. And as you should support your local businesses, i get my meat at a local butchery.
After slicing the breast into thumb sized pieces and a few larger ones, i put them into a bowl with a good amount of salt and butter milk. Let it soak for a couple of hours in a closed container in the refrigerator.
The Colonels original recipe has 11 herbs and spices. You can get a lot of the spices and herbs and mix your own recipe. I went for the quick and easy way, grabbed some tortilla chips (they have a lot of corn starch and are already seasoned with matching spices) and grinded them down with a mortar and pestle. Don't do it to fine, produce small crumbles like in the third picture.
It is important to coat it first in flour, so the egg yolk sticks better to the pieces of chicken and then coat it in the chip crumbs.
Pre-heat the oven to 180° Celsius (around 360° F), spread the crumbed pieces on a griddle. Make sure they don't touch eachother. After 15-20 minutes in the oven, grab a pair of tongs and turn them over once. Let them in the oven for another 15-20 minutes, or a bit longer if you want them more than just golden-brown.
As only fried chicken would be a bit boring, we mixed up a fitting side dish. Wash a few potatoes, cut them into nice bite sized pieces and put them in a tray that is covered in a bit of oil and add salt, rosmary and a bit of garlic. We went further and put a few garlic gloves with the potatos in the oven, cooked it and mixed it in the sauce later on. You can cook the potatos along with the chicken in a lower tier of the oven at the same time, so this saves time.
About the sauces, go with what ever you like. Some people like barbeque, others ranch or sour cream. We used curd cheese (or zaziki) and Bull's-Eye sweet mustard BBQ sauce.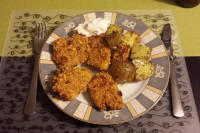 After having a serious delicious diner, we played a couple of games (gave Flo his first round of Blood Bowl) and packed our stuff for the Bitbox the next day. As the amount was plenty, we had a few leftovers to for us to bring to the show as "provisions".
I hope you liked this small excursion, and see that it is quite easy to cook it yourself. So maybe, this is an idea for your next gaming night (i'd suggest Blood Bowl). Oh and keep some towels at hand, as you don't want to touch your lovely miniatures with your greasy fingers. Have a great week and give me a comment or like on facebook.
Next up a brief look back on the Bitbox and the results of my vacation.
Enjoy this article?