So I've completed my four part coverage on the Salute, and here is my personal conclusion and "haul" from the event.
The South London Warlords put a lot of effort into the "Swag bag" and the show in general. So along with the ticket, you receive the limited miniature by Westwind Miniatures and a few freebies, in this case a sprue from Maelstrom's Edge. At the info desk you could stock up on older event stock, like badges, t-shirts, dice and miniatures. I used the chance, got last years miniature by the perrys, the D-Day anniversary shirt, along with older events dice and badges.
Along with the Steampunk Dame by Westwind miniatures and last years Agincourt sprue by the Perrys, Nick Northstar and Wargames Emporium teamed up and added a show-only Jack the Ripper (and you could buy it along with last years Steampunk Tart). I've got a soft spot for limited miniatures, so I spend a few bucks on these early at the show.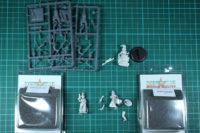 At Fireforge Games, I got myself the russian militia, as I've seen it at Dalauppror, and will cover them in a review on my own. Black Scorpion added to their Fantasy Football a human star player as well as a gaming trophy. The Blood Bowl enthusiast in me just had to buy them.
First stop at the show was actually at Hasslefree, and I got me the lead variants of Haleth, Ulfred, Oscar and Leonard. At Spectre Miniatures I got the pre-releases of the Tier 1 Operators and the show only Russian Juggernaught and Female Sniper.
For Saga, I got me some Gripping Beast goodies, the two of the new priest, one from the Celts and one from the Christians, along with the new Late Roman Infantry. And as the backpack was getting filled up, I chose wisely, adding the new C3M4 combat drone for Gates of Antares, Crooked Dice PX1 and Second Thunder's Open Combat book. But I forgot to get my copy signed by Carl and Gav.
I'll cover most of these item in upcoming reviews, so stay with me on that. If you have any questions regarding the miniatures, feel free to ask and i'll try to cover that information in the review or an upcoming post.
At the show itself, I was lucky enough to meet the Terrain Tutor Mel himself and exchanged a few words. Amazing guy, amazing work, you should check his Youtube channel out. Unfortunately I missed Viv, from the Knights of Dice / Rubbishinrubbishout.
Salute is a huge show, and if you're into wargaming you should try to at least visit it once. Along with the Crisis in Antwerp, it is one of the biggest shows you can visit in Europe. Some are arguing which of the two is better, but to be honest, with one in spring and the other in autumn, there is no real "competition" and you can get both into your schedule.
As a I am living in the west of Germany, it is easier and cheaper for me to reach Crisis in Antwerp by car or train, or Salute in London by plane through Cologne/Bonn or Frankfurt, than visit the Tactica in Hamburg by car or train. And I would love to see a show that size hosted more central in Germany.
About Salute itself, you can buy affordable tickets to Stansted or Heathrow and head to the exhibition hall, ExCeL, by underground or rental car. The later are quite cheap in the UK, starting around 30 pound per day, which is less than 2 tickets with the Stansted Express.
How were you're experiences at Salute? What caught your eye? How did you treat yourself? Leave a comment, post a link to your haul and coverage and thanks again for visiting the chaosbunker. It's appreciated.
Enjoy this article?