Model builders in 1:35 or other scales have a lot of options and conversion kits to chose from, something that is rather rare in 1:56 / 28mm. After looking for it for a while now, I found a few kits and sets at S&S model shop.
The kits work with plastic kits from Rubicon or Warlord Games, and I bought a few sets, among them an ARV set for a sherman and the Bergepanzer III set for a PzKpfw III.
As usual with the plastic kits, i filled them with lead for wheels. Gives the tanks a better handling. The sets themself are quite interesting, but difficult. First of all, you don't have an instruction only a few pictures from the store to lead you through the assembly.
Next to that, the casting isn't properly done. Many of the lead parts aren't fully casted, like you can see in the middle upper pictures, and in case of the Bergepanzer there were even some missing. The resin is okay-ish, but still needs a bit work, not only the cage for the Bergepanzer but the sand bags from the other set as well. At a price of 8 and 12 GBP, it isn't to expensive nor cheap, so i expect a certain level of quality. Especially the lead cast was among the poorest I've seen so far.
I fixed up some of the cards with plastic card, and now I have two unusual sights for the gaming table. If you're looking for the rules for these, you'll find them in the Tank Wars supplement on page S. 79. The Bergepanzer III isn't included, but you could field them using the T-34 rules or use the following suggestion by me:
Bergepanzer III
In 1944, 176 Panzer IIIs were converted to armoured recovery vehicles. Mostly issued to formations with Tiger I tanks.
Cost: 74pts (Inexp),  92pts (Regular), 110pts (Veteran)
Weapons: 1 forward facing hull-mounted MMG
Damage Value: 9+ (medium tank)
Special Rules:
Open-topped (in the place where the turret there was a wooden box configuration, so even if it is closed it still counts as open-topped).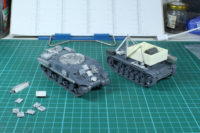 I really like the new options we have with the plastic kits and the "third parties" like S&S Model shop for our scale. As my expectations were not really met with the ARV/Berge conversion sets, and my first impressions from the Firefly and sand bag armour doesn't go much further, i can't really recommend these kits.
Never the less, something I had much more fun building, was the Schmalturm F by Heer46, but will cover it in a separate article.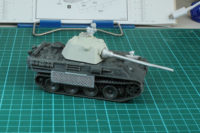 Enjoy this article?