This short review of Maelstrom's Edge Epirian Handlers is a bit spontaneous, as it was part of the Salute 2016 gift bag, and i thought it might be a nice idea, to share it with you.
The game itself is a sci-fi tabletop wargame, with 20-30 miniatures per side, and offers a starter set with plastic miniatures for the Epirian and Karist factions. The starter set Battle for Zycanthus is 89 USD, and the sprue i am assembling in this article is 7,49 USD for 2 miniatures.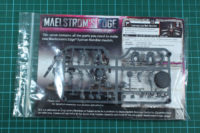 Each sprue covers enough parts to build an Apprentice and Journeyman Handler. 4 pairs of legs, 3 parts of arms and 3 head options are available and a backpack antenna array for the Journeyman (Command) Handler.
Cast is clean and with low amount of flash. The sprue design looks like the asian production facilities, that Wargames Factory or Dreamforge seem to use as well. The details are good, but not that sharp, i assume that is not because of casting issues, but more due to the 3D sculpted nature of the miniatures / parts themself.
The sprue comes with an introduction leaflet and two bases. The assembly isn't shown on the leaflet, but can be found online over here.
Building is pretty straight forward, choose two of the four legs and add the two-part torsi on top. Next up arms and head.
As one of them is a handler, he has a special backpack with antenna, that is added to it. The joints fit pretty well and give a few options with the poses. Not super-dynamic, but easily on eye-to-eye level with other sci-fi plastic kits available.
Comparison and scale is next up. Maelstrom's edge is proper heroic scale 28-30mm, and due to the helmets are event a bit larger than Imperial Guard from Warhammer 40,000. Next image covers the miniatures (2 and 4) next to Wargames Factory (1), Defiance Games (3) and Dreamforge Miniatures (5).
Fully assembled and from different angles, the handler and journeyman.
Conclusion
The game itself was funded via Kickstarter (collecting 70,000 USD) and created by the team of DakkaDakka.com. In this month the last packages / pledges were sent out the backer and the kickstarter made it possible, to produce quite a lot initial miniatures in plastic (among them a 50mm hunter mech).
The quality is solid, it properly designed and casted, but "good"might not be good enough, as the market for mid-sized sci-fi wargames will be a disputed area with Gates of Antares, Deadzone/Warpath and the big Warhammer 40,000. Never the less, with the Mechs and units like the spider and firefly drones, Maelstrom's Edge has something to offer - especially in plastic - that is rather unique in 28mm.
Maelstrom's Edge is a brand of Spiral Arm Studios.
Enjoy this article?