Inspired by the SAGA Scenario "The Escort", i'm looking for something that would make a good baggage train for my spanish Crusaders. As I already used miniatures from the Perry Crusader range, I thought it made sense to look at their range again for the additional baggage train / wagons.
Unfortunately, they don't have specific ones for the crusades, but others from the War of the Roses range. I'm not a specialist on these, so which would fit an early middle ages, around 1.000 - 1.200 A.D.? They have a few, between 11 and 21 pound to offer.
And then there is the Carroccio. Timewise it would work, as they were used the first time in the early 11th century. Only "problem", that was in Italy and not Spain. I'd leave out the crew, but the oxes and the wagon itself should be pretty, especially with the proper golden-red stripes etc.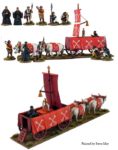 And then there is this cossack wagon, that might be a bit to modern, due to the drawbar. But the carter could be easily converted into someone that would fit the crusaders.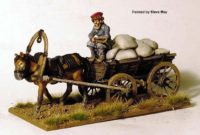 I took a look at the Foundry range, but to be honest, they are not as charming as the Perrys and more expensive on top. What do you think? My favorites are currently the covered supply wagon and / or the Carroccio, the (unarmed) pilgrims will be great companions for these wagons.
Enjoy this article?