Angeregt durch das SAGA Szenario "The Escort", schaue ich mich nach passenden Modellen für den Versorgungstross meiner spanischen Kreuzritter um. Da ich bereits auf die Kreuzzugpalette der Perrys gesetzt habe, machte es Sinn dort nochmal nach den passenden Modellen von Karren und Wägen zu suchen.
Ungünstigerweise gibt es keine direkt passenden für die Kreuzzüge, aber andere für die War of the Roses range. Ich bin kein Spezialist für diese, daher die Frage, was würde für das frühe Mittelalter, 11. - 13. Jahrundert passen? Es gibt ein paar, die preislich zwischen 11 und 21 Pfund liegen.
Und dann ist da dieser Carroccio. Zeitlich passt es, da diese im frühen 11. Jahrhundert eingesetzt wurden. Einziges "Problem", das war lediglich in Italien und nicht Spanien der Fall. Ich würde die Besatzung weglassen, aber die Ochsen und der Wagen sollten gut passen, besonders mit den passenden rot-güldenen Streifen.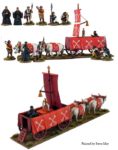 Außerdem gibt es noch diesen Cossack wagon, der wohl etwas zu modern ist, durch das Joch. Aber der Fuhrmann dürfte einfach umzubauen sein, um zu den Kreuzzüglern zu passen.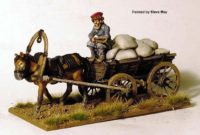 Ich habe auch einen Blick auf die Foundry Range geworfen, aber um ehrlich zu sein, finde ich die nicht so ansprechend wie die Perrys, und dazu auch noch teurer.  Was meint ihr? Meine Favoriten sind aktuell der abgedeckte Versorgungskarren und / oder der Carroccio. Die (unbewaffneten) Pilger dürften gute Begleiter für den Tross abgeben.
hat dir dieser Artikel gefallen?