With the second part of the 4th Vikings season coming back, it is a good time to cover Ragnok, the Norse Orc Hero.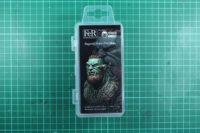 The bust was originally available through Forged Monkey. It was founded in 2011 by Raffaele Picca, and released twelve busts and three figures. In early 2015 the official webstore closed and Forged Monkey was put on ice, but later that year Fernando took care of the range and distributes them since in his own store, Fernando Ruiz Miniatures.
It is packed in a clamshell blister and padded with foam. The 1/12 scale bust is set at 35 Euro.
The bust is roughly 5-6 cm in height, about 4 cm wide and has an angled bottom.
The decision about pinning it to a plinth hasn't been made yet, but for the purpose of this review, it is pinned to a cork. Some of these busts or showcase miniatures carry a slightly disappointment, as you noticed that some of the details were only painted on and not sculpted - but not in this case!
Incredibly, talented sculpted and well casted, it is amazing what tiny and small scaled  details are catched on this bust.
Here is a close up, so you can see the fine details on the sides of the head, the scaring, the facial hair.
Massive Voodoo did two takes on Ragnok, and two different approachs, both painted by Roman 'Jarhead' Lappat himself.
Step by Step Ragnok - Version 1
Step by Step Ragnok - Version 2
More painted versions of Ragnok can be found on Cool Mini or Not and Putty & Paint.
Currently I'm looking for a matching plinth for this bust, maybe something angled, 30-45°, will have to take a look at the store to find something.
Conclusion
I'm really amazed by the quality of this bust. Both the sculpt and cast are incredibly well done, and to be honest, I'll have to spend a bit more time on training my painting skills before I'll give this one a try. Never the less, I'm really looking forward to it.
The orc bust is well proportioned and in my opinion, one of the (if not the) best of the Forged Monkey range, along with Major Tom and the Sentinel of R'lyeh. 35 Euro may not be cheap, but this is an incredibly well done small series resin cast. So you get a lot of quality for your money and a lot of painting entertainment as well. The only thing that could have improved the bust, would be a pre-casted connector piece or differenty molded lower part, for easier or direct attachment to a plinth.
Link: Fernando Ruiz Miniatures
Enjoy this article?