As I took care of the Rubicon Models StuG just a few days ago, I already mentioned, that I've been tinkering with that kit.
The next Bolt Action supplement, Battle of the Bulge, is just around the corner and we have a lot of winter troops around. I have a fable for captured vehicles and special vehicles, so I decided to build my winter germans around the Unternehmen Greif and one of the Kampfgruppe X-Z.
I already prepared a Panther M10, using the resin kit by Warlord Games and adding a few parts from the Rubicon plastic Panther kit.
Warlord took care of the Ersatz Stug as well, in their article on how to convert one, but I did a bit of research, took reference pictures from panzer wrecks and model kits, and build my own. The field conversion of the StuG is still unclear. Skorzeny commented, that it couldn't fool a private in the night, as the modification were rather basic. Mainly covering the engine compartment, adding different styled skirts and US markings. Some say, it was meant to resemble a M7 priest.
If you're looking to convert a StuG in 15mm as an Ersatz StuG, don't even bother the trouble, Battlefront covers them for Flames of War. I used the article as an guide along with the following model builder projects;
Well, however I started with the almost completely build StuG.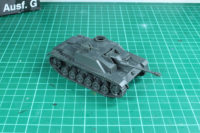 First step was to cut off the muzzle brake, as this was something very easy to do, and to prepare some plastic card. I glued the pieces with a bit of sprue, for more stability.
The skirts were fitted and filed down to resemble the curves. After that I started to cover the engine compartment.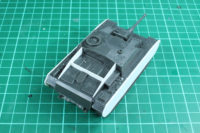 Added another sheet of plastic on top and one in the middle to stabilize the construct.
Now it is just waiting for the primer and an olive green paint job with heavy winter camo to begin with. As I need a Recce vehicle as well, I'm going with an captured M8 Greyhound, shown below. Almost done, just waiting for the decals, some german markings.
A truck would be a useful addition as well. The german captured a few Ford Trucks for their operation, maybe I could include the deuce and a half plastic kit into this army as well. I'll cover the infantry part of this project in a separate article, including disguised germans as well 😉
Enjoy this article?