On SuperBowl Sunday I got in my car and headed north towards the 5th Narrenball 2017 - a Blood Bowl Tournament and official NAF event.
During the ride I was greeted by a wall of fog in the Siegerland. A bit later I arrived in Remscheid, at the Rack-n-Roll Billard Cafe.
Inside the Rack-n-Roll was a bar area at front, a few snooker tables and even a wall filled with board games.
In the back was a medium sized room, filled with 20 players looking forward to play a Blood Bowl Tournament over 4 rounds with special rules like Cherry Bomb, special team development and match events. I met some familiar faces from other events like Bitbox or gaming conventions in the Ruhrgebiet.

The average age was 30+ and it was a real relaxed and friendly mood, something that is not that often seen at tournaments. But it is Blood Bowl, the best game in the world, what do you expect? Just kidding.
All of the teams were painted, lots of conversions and third party miniatures. Everybody had their own small collection of collectibles from other events, special dices etc. All in all, the players were unabashed by the relaunch of Blood Bowl. Happy for the attention, as it brings new player to the pool, but beyond that, they have their teams, they have their rules for years and not looking forward to get into an dependence with somebody that didn't care about them for so long.
The Blood Bowl and fantasy football community is very organized and has with the NAF a strong backbone. This event got a lot of price support all across the board, as these pictures show.
Thanks to Michael for sending in the pictures of the winners and trophy below.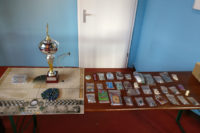 As this was an event, that was attended / hosted by a NAF official, I seized the moment and prolonged my membership to add a few things to my NAF coin, with some fancy new block dice, a turn marker and the fame+1/+2 token. You'll receive them if you join NAF or prolong your membership, but it costs 10 USD online and only half that if you do it in person at a NAF event.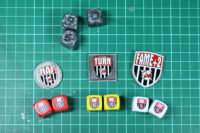 It was a scouting trip for me, to see how this event and the people participate feels like. To see, if this is something that I can see myself in and participate with, and I'll keep an eye on the upcoming event schedule and maybe join in next time, as it was a very friendly and welcoming tournament.
Thanks to Michael for hosting this event. Next one will be KlingenCon on 22. + 23. April 2017 in Remscheid, and there will be - among others - a SAGA tournament.
Enjoy this article?