It is mid of March, so it is time for the spring Bitbox! A tabletop flea market in Mülheim an der Ruhr. The opening times were shortened from 11:00 to 14:00 and for the first time I had the sensation of queueing at this event.
Christian, Martin and I were a bit early, usually early enough to get a glimpse of some early special, but it was crowded. As the Bitbox opened on point 11 am the visitors entered and after that not much moving as possible. I managed to sneak upon the stairs and take a few pictures.
A very colourful mix of products, many Games Workshop items, but mixed from different "epoches" and along with some historical miniatures, odd and rare items. We did two rounds, as it wasn't possible to get a proper look on many things on the first run, but this is my "haul" from the Bitbox.
Two sprues of chaos mutant bits, an Inquisitor 54mm scale miniature, a Space Marine character, an Orc big mek, an Eldar warlock, a few classic Space Orcs that will be forwarded to Berlin, an old pre-Necromunda Confrontation Ganger, the Salute 2010 miniature (that I already own, but only noticed back home, D'oh!), two pins and an unidentified Con Miniature (most likely sculpted by Mark Copplestone - if you have info on who he is, drop me a comment).
It is a fun event, only 1,5 hrs from me, easy to reach by the Autobahn and it is great to meet up with some friends from the wargaming community like the guys from TablePott or Stronghold Terrain. And of course with the hosts, Franz and Werner from Freebooter.
This week was although my turn on the Sweetwater Community "Kramkiste" (box of stuff), where the community fills a box with a random assortment of wargaming items they want to trade in, send it to the next one on the list, he or she takes out what they like and replace them with something else.
I was number 9 in the queue, and took the following items from the box, two Legion of the Damned blisters, Forge World Inquisitor retinue, 40mm Border Reavers Perry Miniatures, an undead sprue by Mantic, a Bretonian Grails Knight, Indians, an old fantasy homunculus and a Bolt Action female russian sniper.
In return I gave a lot of Dust miniatures, along with rules, stat cards and game plan, a Secret of the Third Reich starter box, a few Micro Art Studio bits and bases, a Wood Elf mounted general, a few sprues from 15 - 28mm, a Mantic chaos dwarf mage and a few Deadzone miniatures.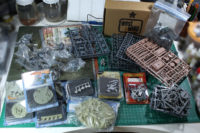 Great idea, good community and chapeau to Eisenhannes / Helmut for managing the whole thing!
Enjoy this article?