It is this time of the year, early November and the TinSoldiers of Antwerp host their annual show, the Crisis. For me, preparation started in summer just when I got back from New Zealand, getting the team ready and booking hotel rooms.
I was really looking forward to this weekend, as I had to take a rain check last year due to professional development - first time for me missing the Crisis in since 2011. So my first larger wargaming con visit since last years Salute. And I'd like to show you how we prepared our trip, what you might have missed around the show and why the city is worth a visit.
How to get to Antwerp? First of all, Antwerp has an impressive central station, so getting there by train is quite easy. For example you could grab a train in Cologne, change at Brussel and be in Antwerp in less than 3 hours. Similar options will get you from London to Brussel (~ 3hrs), and from there by train again (less than an hour). Flying direclty isn't really an option (but again, you could fly to brussel and take a train / rental), so if you're not taking the train, the (rental) car will be your choice. Travelling by car is a bit more difficult since February 2017, as (central) Antwerp now is now a Low-Emission-Zone and you have to register your car to enter the city. The whole procedure can be taken care of online (lez-antwerp), doesn't cost a dime and takes roughly 5-10 minutes. I was made aware of that by our fellow hobbyists at Sweetwater. As this wasn't the only problem, the city officials decided it would be a good thing to take care of extended road works, a lot of streets are blocked and accessing the inner city and the event location as such got a bit more difficult. To avoid most of the hassle, including the usual rush hour traffic on the ring around antwerp, we started our journey on friday around noon, grabbed some provisions in a local supermarket and arrived rested around 2:30 pm.
If you want to spend an relaxed day or evening in Antwerp city, make sure that you get yourself a room in the area west of the central station and within walking distance of the old town. If you don't want to move your car for the next day towards to show, grab a hotel in the harbour area, as it is possible to get their by foot easily if you stay somewhere between the historical old town and Rijnkaai. Just be aware that parking is going to cost you around 20 Euros for 24hrs and you should take a look at the parking lot beforehand, if you have a larger or newer car, as not every location might fit your needs.
Antwerp is absolutely worth the visit, as you can see from the beautiful buildings shown above. The city has more than half a million people living there, and is home to one of the biggest ports in the world, making it the second largest in Europe. It has a lot of sights, an impressive historic town center, museums and within an hour or two a lot of historical sights from Napoleonic and World Wars. So the city can be your destination for a couple's or guy's weekend.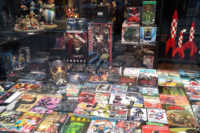 Very close to our hotel was an interesting comic and merchandise store, the Mekanik Strip. So there we were, early afternoon in Antwerp, looking for a proper start into this weekend. By chances I found this new food market and put it on our to-do list for the tour, the Super Mercado. It is the former post office of the city and they renovated it and build around a dozend of food stands in it, so you can grab from a broad choice of meals. I can only recommend it!
Taken care of hunger, thirst was next. Strolling through the old town, around the cathedral, we stopped at Paters Vaetje, with their range of roughly 100 beers. Later that evening we met with a few friends on De Keyserlei, with its dozends of bars and small restaurants and finished the evening in a relaxed manner at the Bier Central. During the later afternoon we were made aware, that Metallica was playing that night in Antwerp, explaining the higher than usual density of metal heads (and I thought it might get a bit more crowded at Crisis than usual 😀 ) and surely didn't help the poor fellows stuck in traffic during the day.
A proper start into the weekend. Others mixed in visits to Arnheim, Waterloo or Ardennes on thursday and friday. So there is something to do and see for everybody around your trip to Crisis. How did you plan your Crisis weekend? Are you going to the show next year? Share your thoughts and next up I'll cover the show and my haul.
Enjoy this article?