With the last two month of this year right around the corner, the planning for Winter is necessary. One of the next events on my schedule is the Crisis, as I already shared with you here - Crisis 2017 prelude.
Usually I prepare an advent calendar for December, but this year I'll schedule something different. I'd like to switch to some themed weeks, but still delivery some special topics on the advent sundays. So what do I have on my mind? Well, the review schedule has still a few things to cover. You are most likely well aware of the world war 2 heavy content, so expect a some vehicle kits in resin and plastic, and a few infantry sets among them as well.
There will be at least two themed weeks on Bolt Action, one will cover the Duel in the Sun campaign supplement, with SdKfz 250 and SdKfz 251, along with some bikes. And the other one will be build about the fights in South East Asia, with the New Guinea supplement and a Chindit force (yeah i know, that's Burma). All that doesn't even count in on the new plastic kits by Warlord and Rubicon, that were recently released. Oh, did I mention airborne week with british and american paratroopers? The german Fallschirmjäger were already covered last year.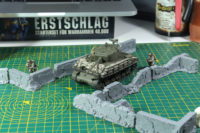 Beyond that, I'll open up some Agincourt and War of the Roses plastic kits by Perry Miniatures for you and follow that up, with an Game of Thrones themed article. With Saga 2nd Edition coming next year (and hopefully some new info on that at Crisis) this will feed another theme week.
I've been painting a bit on my romans in the meantime and had a lot of fun with "painters coffee parties" via Skype, as it can be hard to set up a date for joint meeting, if you're working, living in another city etc. It is actually pretty fun, as it is way less work to prepare, just get your notebook, tablet or what ever device with a webcam you have, start up Skype or something similar and paint away. And it is a really nice way to keep in touch with some people that I see way too rarely.
I'm really excited about today and the upcoming week. Today is going to be the big day for my soon-to-be wife and me, as we're getting married and using the next week with the bridge days for a few days off - and you know what that means for a wargamer, binge watching while getting stuff done! With a guys weekend to follow in Antwerp for Crisis.
Any comments, recommendations or wishes for the topics above? Would like to see a specific item on review or have something covered, that I didn't mention? Just let me know.
Enjoy this article?