The polish manufacturer Micro Art Studio offers a broad range of terrain, made from resin, mdf and foam. They even carry licensed products for systems like Wolsung or Infinity. In this review I'd like to cover generic wargaming items in form of hills, made from foam.
The pictures above are from the MAS online shop and show the large hill and a set of four flat hills. They come unpainted and are 19,68 EUR (the large hill) and 34,44 EUR (flat hills). They are slightly primed in black.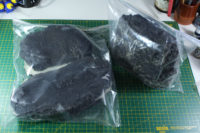 Let's begin with the large hill. This set covers a single piece, roughly 20 cm wide, 15 cm high and 15 cm deep (8"x6"x6"). The underside is cut smoothly, with open pores. The hill is structured in rock face all around.
A short scale picture with a Primaris Space Marine, a regular Space Marine and a Bolt Action Paratrooper. It is large enough to easily give cover to vehicles and larger creatures of war.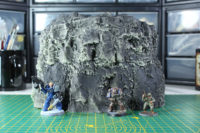 The other item is a set of four flat hills, two medium and two small sized ones. Here again the underside is smooth with open pores and you can see the pouring points. The hills are differently styled, have rocky fronts and an earthy structure on top. The details are pretty well casted and sturdy.
The flat hills have slopes, but they are not to steep to put miniatures on them. The height is high enough to cover a regular infantry miniature and lower vehicles. The size and design make them fit for a couple of settings, from historical to fictional ones, and depending on the painting and flock, could be used from the deserts over woodlands to ice steppes. And you are not bound to a scale either, as these can be used with 15mm or 40-54mm as well, beyond 28mm.
As the pieces are already slightly primed in black, you can either give them just a slight drive brush with grey (or light brown, depending on where you want to put them) or coat them in a different colour and build up the highlights. The details are surprisingly sharp and very welcoming to a simple coat of drybrushed colour.
As the surface is not sealed, foam terrain can "drink" up quite a bit of paint, so you might think of using regular paint from the diy-store and give a bit of PVA to it. Please remember it is not safe to spray paint your foam terrain pieces with paint from a can, as the propellant might cause the foam to dissolve. After painting you can add flock and static grass to them and seal the whole piece with thinned down PVA.
As you can see, the two sets already give you a solid starting point for a 4' by 4' / 120x120cm table. Add a few buildings or assortments of trees and you're good to go for the most rule sets.
Conclusion
The large hill might be a bit expensive for a single piece, but the set of 4 is a fair priced basic item for every terrain collection. Add the sets of the two small and medium sized hills to it and that should set you up with enough hills at roughly 70 EUR.
That the hills are made from foam makes them sturdy and light. Especially the later aspect makes them easily transportable. Pricewise there are pre-painted alternatives, usually at a higher price. The only competitors are currently Gale Force Nine at a higher price and the OOP modular plastic hill by Citadel / Games Workshop.
Micro Art Studio has a solid network of distributors, so it isn't difficult to get your hands on their products in a regular brick & mortar store. You can order them online or buy from them at a show - often with a discount. Micro Art Studio will be participating at Spiel 2017 (26. - 29.10.2017) in Essen in Hall 6 Booth E130 and Crisis 2017 (04.11.2017) in Antwerp at 5A04.
Link: Micro Art Studio
Enjoy this article?