On the weekend I managed to do the last touches on the captured M8 Greyhound, named Ford M8(a) by the Germans. Applying the last few weathering bits and the fitting decals onto the vehicle.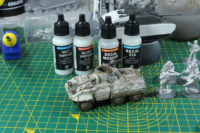 I used the Decal Fix and Medium by Vallejo, quite easy to use and the results speak for themself. Some suggest that you prepare the area with gloss varnish, I just used the Decal Medium, placed the decal and added a few thin coats of Decal Fix to soften the edges. Later "protect" the decal with matt varnish (and it dulls the decal a bit and makes it blend better with it surroundings).
As the turret is a rather unforgiving surface for the decals, I cut them in the middle and placed them above and below the ring around the outer turret. And to match it with the winter torn vehicle, did a bit of damage to the decal afterwards.
The Ford M8(a) will be part of my winter Germans of Unternehmen Greif / Ardennenoffensive. I used the Rubicon kit of the M8 Greyhound to convert it, and it is shown next to the Panther M10 by Warlord Games.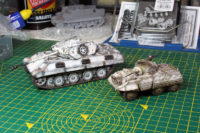 I prepared a few of the Winter Germans, and to boost the different sculpts, I added a few of the Gebirgsjäger as well. For the veterans I went with the recently released Waffen-SS in winter gear (not pictured) and have a squad of American GIs in winter gear as well, that will be used as Brandenburgers / Einheit Stielau / Panzerbrigade 150 Infantry Squad.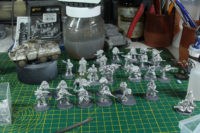 The next two vehicles to be painted in winter camo are already prepared, they will be the US 2,5t Cargo Truck (as a fitting transport for the "undercover" units) and a Ersatz StuG. Both models by Rubicon. They will be supported by a Opel Maultier, that is still in production.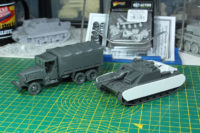 The Ersatz StuG was already prepared with the field conversion parts, as seen in the link above. I added some stowage (from the German Stowage set by Rubicon) in the back and a camo blanket to the back.
So currently waiting for the opportunity to prime both vehicles and give them a proper winter camo. The paint job of the StuG is pretty clear, as with the CCKW I'll have to do a bit of research to see how that one looked in winter. If you're interest in the Winterwar on the western front, take a look at my review of the Battle of the Bulge for Bolt Action. I'll take my time and give a bit more attention to this project, so stay tuned and leave a comment.
Enjoy this article?