Almost there with the Ersatz StuG Ausf. G for the 150th Panzerbrigade / Unternehmen Greif. Finished the white wash camo, decals are done, weathering with mud and cracks is satisfying. Only part missing so far is the stowage. Have to take care of the spare wheel, the jerrycans and the Zeltbahn. Actually, I'm thinking about doing a splinter-pattern on the one side and leave the other one white, as snow camo.
When I started converting the Ersatz StuG I had a few black and white pictures of the Battle of the Bulge aftermath, and some more pictures of the Flames of War 15mm variant and a conversion tutorial by Warlord Games. In addition I found this one by Roy Chow on Network 54. I covered my own conversion in here (Unternehmen Greif) and here (Captured Ford M8a).
As usual, I took care of the model with a black and white primer. The black covers the model properly and the white primer gives a rougher coat, so more grip for the colour to attach to. At first I thought I would add the remaining green base colour by using the white as a base and adding it to the edges (much like I did with the KV 1, KV 2 and the Panther M10). But I wasn't satisfied with the result and went with another approach.
I painted the hull of both vehicles with US Olive Drab by Vallejo and painted the tarp and wheels of the CCKW as well. After the green coat dried, I painted lines of thinned down white paint, to get the result of a rushed snow camo.
I repainted the base for the Allied Star decals in olive drab and added the decals with Vallejo Decal Medium and Fix. Afterwards I blended the decals back to the rest, by painted around and over them. The tracks were quite a pain to paint, as the Rusty Tracks paint by AK47 dried up very glossy.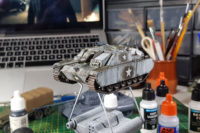 Well, now you know what kept me busy the last few days. And I'm looking forward to finish this model over the weekend and continue on some other kits and miniatures over the holidays and my vacation. So expect an update around saturday. Have a great remaining time until then, see you soon.
Enjoy this article?