How do introduce this article? Some of the regulars may be aware of the food and cooking content on here, (like last christmas' Pulled Turkey, or home made fried chicken) and I stumbled across a recipe from Spiegel Online (yeah, a bit weird, but hey you're on a Wargaming Blog reading about food, so don't judge me) on Veggie Christmas Dinner. I liked the idea of the puff pastry dish and talked with my mom about a potential christmas dinner (and she suggested Pork Wellington). So with Wellington although being the capital of New Zealand, and reminding me of my trip in the late summer, I was ready to go.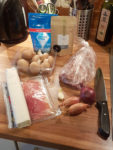 So to get things started, I watched some videos on Youtube, from two foodies that I follow, Chef Tom from AllthingsBBQ and Andrew Rea of Binging with Babish. Can only recommend them. I added the videos further down to the end of this article, in case you want a more detailed coverage on the recipes. And of course, don't miss out on the introduction of this meal by Gordon Ramsey himself. After setting for my variant of Beef Wellington, I went grocery shopping and got myself the ingredients shown above.
Main part of this meal is the beef tenderloin, get this at a proper butcher. When I went to mine and he prepared the meat exactly like Tom did in his video, I had this satisfying feeling that I'm already on a good way to a proper meal. I got a piece of 2 lb / 900g meat, for 6 people (as it is christmas, we have plenty of side dishes). I prepared the coarse salt and cumeo pepper in the mortar to a coarse mix and gave the meat a good rub with it.
Prepare a pan with a bit of oil and get it smoking hot. It is best if you have a cast iron skillet, as it gets much hotter than a regular pan. Now give the meat a good colour from all sides (yes, all side, bottoms as well).
Before the meat cools down, give it a gut brush with mustard. Many recipes recommend english mustard or horse radish, I went with a mixture of french rotisseur mustard and medium hot mustard. Like I said, it is important to do this as long as the tenderloin is hot, as it absorbs the taste of the mustard into the meat while it cools down.
Next is the preparation of the duxelles. For this I went with a pretty simply variant, just brown mushrooms, red onion and shallots. I added a glove of garlic. No need to mince them into fine pieces, as the mixer will take care of that.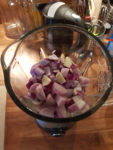 Next up, heat up some butter in a pan over medium heat and add the processed duxelles into the pan. You may have the feeling that it is to liquid, but we're going to reduce it to a paste. The smell of this is incredibly amazing. You can add a pit of salt and pepper, as well as freshly chopped thyme.
Now it is time to prepare the inner core of the Wellington. Usually you would set up some prosciutto for this, but I went with serrano ham. Calculate around half a pound / 250g of ham for this. And most important, spread it on a sheet of cling wrap, otherwise this step is going to be annoying as hell. Spread out the reduced duxelles onto the ham and place the mustard coated tenderloin in the middle and wrap it tightly. This step is well explained in any of the videos below.
For me this was the last step that I prepared at home, before driving to my parents. I parked the "beef bomb" in the fridge to harden and to settle. A few hours later, roughly an hour before dinner time, I prepared the last step. Roll out some puff pastry. Again onto some cling wrap and coat the inner side with egg yolk. Take the ham wrapped beef out of the fridge, remove the foil, put it in the middle and wrap it tightly. Very, very tightly. And now back into the fridge for around 15 minutes to settle and harden. You can use the remaining puff pasty to decorate the wellington a bit. Take the remaining egg yolk and brush it over the outsides of the puff pastry and sprinkle a bit of coarse salt over it. I went with sea salt flakes.
Now put the whole thing into the oven at around 200° C for 30-35 minutes. But make sure, put it directly on the baking sheet, not into a form like the picture above, as this will cause a build up of the heat and the loaf will bake uneven. If the top gets to dark, you can add a small bowl with water or cover it with baking paper.
You can check the core temperatur, to see if the meat is where you want it to be. At 50-55° C it will be rare, 55-60° medium rare, 60-65° medium, above 65° is well done. I went with 35 minutes and ~60°. Let the beef wellington rest for 5 minutes before cutting. I recommend using a serrated knife - or electrical knife if you got one - for half inch cuts. Enjoy!
I had fun preparing this meal. Next time I'll choose a thinner piece of meat with less diameter, as it will be easier to handle and have less problems with the plateau phase of the core temperatur. I had red cabbage, maroons and bread dumplings with this and it was great.
To sum it up, here are the recipe videos I used as reference.
Thanks a lot for reading, come by again soon and I would appreciate it, if you leave a comment or give me a like on Facebook. Have a great remaining days of 2017!
Enjoy this article?