The StuG is done and here are the proper picture of the third vehicle for my Unternehmen Greif / Panzerbrigade 150 force for Bolt Action.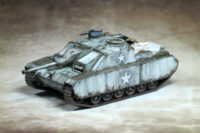 You can read about the work in progress in more detail over here, Ersatz Stug Ausf. G WIP. I thought a double sided Zeltbahn camouflage would be a nice detail for the vehicle. Went with winter / snow camouflage in "pure" white on the one side and a splitter tarn on the other side. There were reversible smocks for the infantry, proper details on the zeltbahn or vehicle netting are more difficult, so take this with some historical "liberty".
As I'm finished with this one, I have the next two vehicle on the workbench. I'll continue working on the CCKW truck and started the Kingtiger in plastic. But beside that, I went on and prepared the superb range of new germans in winter gear by Warlord Games.
They have a broad variety of command miniatures, along with some of the special release miniatures from the supplements, fitting this project very well. So I have Joachim Peiper, the soldiers helping eachother, and the tank crew as well. Oh and next to the officer with winter cloak is the Heer46 variant, both in very similar poses.
The new FOO set is quite impressive as well. The soldier sitting on the radio gear is multipart and very well done. Very living pose, just look at those details.
And up to my first larger weapon teams, currently looking for some Renedra plastic fencing to place in front of the PaK and to work further on the base before adding sand and grit as a first layer. I have different artificial snow products here and really looking forward to try them out. Even got myself some of the Citadel Valhallan Blizzard, as it was recommended by a fellow wargamer. Other than that, the miniatures are based and waiting for primer.
Next week I'm back to work, but I prepared a lot of content for the blog in my two weeks of vacation, so stay tuned. Have a great start into the new year and if you like what you see, share the link to this blog with your wargaming friends. Thanks!
Enjoy this article?