Hello everybody,
on May 25th 2018 the new general data protection regulation (GDPR / DSGVO) will come into force. What does this mean? Well, it is a regulation to ensure the safety of personal data, your personal data. What has this to do with chaosbunker and why do I cover this topic on here? Due to the activity on this blog and the contents provided, these regulations have to be met by me and my blog as well.
What data does the chaosbunker gather? Beside the regular IP logs a host generates of data retrieval, there is not much the blog actually gathers on the visitor. WordPress, the blog software chaosbunker uses, sets a cookie that stores a bit of information, for example if you use the german or english version of this page and the next time you visit chaosbunker, your prefered language is loaded. Beyond that, what data is collected? Well, the regular WordPress stats, I can see how often articles are read, which are more popular than others, and a very basic reference (how visitors came here by Google search, social media or boards, etc.) without any actual personal information who the visitors actually are. But that's it, nothing more than that.
Further than that, I updated and modified this WordPress installation so that not more data is gathered than actually is needed. For example, the facebook widget in the lower right corner was removed, as this would forward your information to Facebook. This does not really comply with the idea of the GDPR, so I ditched that one. There are two facebook buttons on the upper right, so if you want to follow / visit me on facebook, please follow that link and leave me a like.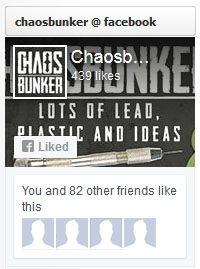 Usually comments save the IP of the person who wrote the comment. That one was taken care as well, the IP is briefly checked by our spam protection and deleted right afterwards. All of the old IP information was replaced with a generic IP as well. All information in the comments is voluntary and if you'd like a former comment to be deleted, please get in touch with me. The contact details are in the imprint.
As with Youtube, I took care of all the embedded videos (roughly a dozend) that have been posted here over the last decade and updated them to the data protected version. So no information is transmitted to Youtube unless you actually watch the video.
And as a further upgrade, the chaosbunker is now SSL encrypted, so the data that is transmitted is encrypted. You can see that, by the green lock next to the URL in your browser. How about that?
You see, I take this task seriously and try to comply with the requirements accordingly. Thank you for your attention, have a pleasant stay on this blog.
Enjoy this article?