Micro Art Studio has widened their range of mostly bases and licensed Infinity terrain to more "franchises" and settings. Some of them belong to Wolsung or grim dark sci-fi settings, others are for historical games. I did show you some items from the generic / historical settings in reviews, like the foam hills or fuel depot, and I'd like to add the brick wall set to it.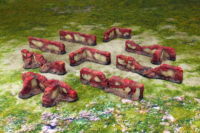 This set of 9 resin wall sections is 24,60 EUR and if you align them end to end, you receive a total of ca. 90 cm / 35 inches of wall.
The individual wall pieces are packed with foam flips in the small cardboard box and are all made of resin (but the hue of the resin varies, usually between light and dark grey, the beige one is unusual). Even though they have different colours, the level of detail is the same. There are smaller air bubbles on the edges of some details, but as these stone walls are damaged, that doesn't really throw down the end product.
The bottoms of the pieces are smooth and partly sanded and stay even on the surface.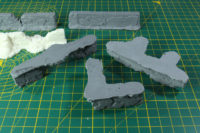 As you can see the size fits 28mm miniatures of historical and fictional settings as well. Of course higher bases cause less coverage.
The 9 pieces cover a good amount of space on the table and can be used to surround streets or fields, or just to separate open areas on the field.
Painting them was straight forward, after a good wash with luke warm soap water (as you should always do with resin parts / kits); I gave them a two tone primer. First with solid black and after that a brief swipe with matt white. I mixed 50/50 Army Painter Fur Brown and Daemonic Yellow for the plaster, Dragon Red for the bricks, Uniform Grey for the rubble and solid wash with Strong Tone. After that I let it dry for at least 12 hrs. and went for a dry brush with Skeleton Bone afterwards. Adding a bit of grass or tufts to the base should enhance the overall look as well.
Conclusion
As for scatter terrain, you can never have enough. That is one of the reasons, why I always keep my eyes open on these. With roughly 25 EUR, it isn't the cheapest set around and it is the question, what you're looking for. Renedra fences are leading in length per Euro, but those are "just" fences and not walls like here. The Warlord Games / Italeri re-pack wall set is at 15 GBP, cheaper and 50% more length, but less tall, and their resin walls are at 16 GBP. There are a couple of MDF walls available, but they are usually rather flat compared to their plastic and resin counter parts.
This is a solid wall set and can be used in a wide spectrum of games and settings. As mentioned above, it is not the cheapest, but well available in regular stores and not just online (so if you add shipping to the other prices, it balances), which is a big plus. Micro Art Studio offers a range of sci-fi walls for Infinity and Grim Dark settings as well.
Link: Micro Art Studio
The reviewed product item was provided by the manufacturer.
Enjoy this article?