And in 2018 Wargames Soldiers & Strategy once again hosts the Great Wargaming Survey!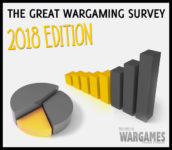 For the fifth year in a row, Wargames Soldiers & Strategy magazine is running the Great Wargaming Survey. With many thousands of respondents every year to an ever evolving (and sometimes revolving) set of questions, it gives a constantly improving image of 'the average [responding] wargamer'.
But more importantly, it seems to constantly confirm how much enjoyment respondents get out of their hobby. Join the party and add your responses via https://www.surveymonkey.com/r/QQQVSHL
For reports on earlier editions of the survey, see https://www.karwansaraypublishers.com/wss_gws
Welcome to the Great Wargaming Survey 2018 with an exclusive focus on tabletop miniature wargaming.

Apart from rolling dice, there seem to be few things wargamers like to do better than discuss the state of their hobby. The purpose of this survey is to answer some of the questions that regularly come up in such debates. As before, the results will be published online only for everyone to read.


As before, and thanks to our gracious sponsors, we have quite a few prizes to be won. Leave your email address at the end of the survey to be entered into the raffle. Entering the contest does not automatically mean we'll subscribe you to any communication! That is a separate question which does not influence the results of the raffle in any way.

As a thank-you for taking part, everyone who completes the survey will get a 15% discount code for the Wargames, Soldiers & Strategy / Karwansaray Publishers webshop. Though it does not apply to shipping costs, this code can be used for any (combination of) in the shop apart from our Premium, Combined and Digital subscriptions.

Finally, filling out the entire survey shouldn't take more than 5-10 minutes, and we're taking responses until September 5th, 2018.

Thank you very much for your cooperation.

Guy Bowers & Jasper Oorthuys
Wargames, Soldiers & Strategy magazine
Thank you very much for participating!
Enjoy this article?