Heer46, the German resin forge for small series, released this 8,8 cm PaK 43 late 2017 / early 2018 and it fits well, with this week's anti-tank gun theme. I have covered their Panther F-Schmalturm and Sd.Kfz. 247 Ausf. B on here as well.
Initially designed by Krupp as a competition to the 8,8cm FlaK 41 (the second generation of the 8,8 cm Flak 18/36/37), it was reworked and went into production in 1942. The first units were mounted to the Nashorn tank destroyers, later in mid 1943 available on cross outrigger or split rail carriages (as PaK 43/41).
As the FlaK was quite high and large, the PaK 43 had similar firepower (but fewer rounds per minute) and a lower silhouette and was more mobile on the split rail carriage. The PaK 43 was dominantly used by the heavy tank hunter regiments of the German Heer and Waffen-SS. Due to its weight it was towed by the Sd.Kfz. 6 or 7.
This resin kit is priced at 20 EUR. Heer46 offers the PaK43/41 with a split rail carriage as well. Depending on where you buy it, it comes in a small zip-bag or with a small card board box. It is an 11-part resin kit in 1:56 or 28mm scale. As this is a resin cast and not mould-injected plastic, please wash the parts before assembly and use super glue.
The kit comes without an assembly instruction, so you have to deduce the steps from the product picture.
I started the assembly by cleaning the parts and removing any smaller mould aids from the parts. As you can see I started with the cruciform gun carriage.
Next up the gun itself, with more than 6 m (nearly 20 ft.) the PaK 43 had quite a long barrel. It might be that this part is slightly warped, as barrels and poles are difficult to cast and may bend a bit due to heat. In some model kits these parts are replaced with metal bits.
Next up is the gun shield, along with the gun mount on top of it. The glue surface is a bit small for the gun shield, so it might take a bit until the glue settles.
Last but not least the tow ring. This is more or less in there for completion, as you would need the Sonderanhänger 204 to build this one in towed modus (as you might have seen from some 8,8 FlaK kits).
The 8,8 cm PaK 43 comes without a crew, but you could use any late war crew you might find suiting. In the first picture you see the crew from a Warlord Games PaK 40 in winter gear. More fitting would be an 8,8 FlaK crew, due to the size of the shells. The second and third pictures show comparisons in size with other field artillery, like the Pak 40 and an 8,8 cm FlaK.
I used the PaK 43 for a Waffenträger on Pz IV conversion. Heer46 offers the PaK 43 as a Sd.Kfz. with PaK 43 bundle for 23,50 EUR.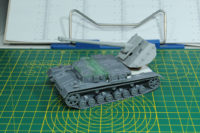 And the assembled PaK 43 on the backdrop.
Conclusion
The "Scheunentor" PaK 43/41 might be more known, due to its nickname, but if you're looking for some late war anti-tank gun, maybe with focus on the what-if scenarios or Panzer '46, this is an interesting product.
At a price of 20 EUR it isn't cheap, compared to the 16 GBP anti-tank gun kits that cover a crew as well. But this is a small series product, made from resin, so less automated and more hand crafted. Quality of the cast is good, no bubbles or air intakes, little to no flash or mould lines. Warpage is always an issue with resin, and only occurred - as expected - with the barrel. This is a common issue with resin kits, just put it in hot water, re-align it and put it cold water to settle.
It would have been great, if they offered the Sonderanhängers 204 as well, as the PaK 43 was transported on and sometimes even fired from the carriage.
Link: Heer46
The reviewed product item was provided by the manufacturer.
Enjoy this article?