An update on the modified Panzer IV from Warlord Games. The second World of Tanks vehicle, that i brought into 1:56, is the Waffenträger auf Panzer IV. Based upon the new plastic kit and a PaK 40, i added plastic card, a few bitz and green stuff, to fit my needs.
The gun shield of the PaK 40 is to small, as well as the gun just doesn't look like right. So i scratchbuilt a larger gun shield along with something that looks closer to a PaK 44 / 12,8 cm.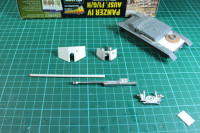 I added a few optional parts from the sprue. Later on i'll add a camo net and perhaps some tools. I am not sure, if i will glue the crew on the back part or will base them seperately, as a little bonus. The gun looks a bit naked, but the camo net will take care of that. I was thinking about a muffler, but the 12,8 cm didn't have one (if you take a look at the SdKfz 186 Jagdtiger).
About the paint job, i've been doing some research for quite some time now. Many of the camo schemes just don't appeal to me. I consultated the AK Interactive German Camouflage Profile Guide, along with some googling. Still not sure, if i should go with a dark yellow chassis and red (anti-rust-primed) gun, as it would fit with such a field conversion. In the overall topic, for my Mid/Late war Bolt Action Germans i am thinking of a combination of two schemes. The splinter camo, that was used by the 3rd Army in the summer in Lithunia and a variation of the ambush camo.
Enjoy this article?