Last year I got myself a box of the classic 3rd edition Blood Bowl Halflings. And this Saturday it was time to put some paint on these stunty guys.
Daniel dropped by for a painting session and tutoring, and Florian joined via Skype video chat. You should think about doing so, it is fun and easy to set up, as almost every mobile device or notebook nowadays has a webcam.
I went with a solid white primer instead of the black primer with white dusting I usually do, as I was told for the bright colours I'm going to use, it is the better foundation. So Army Painter Matt White as a primer (please note that GW Corax White Spray isn't white like the old Skull White, but a very light grey). The method to do the Halfling skin was given to me by Daniel, it was;
Base colour of 2 thin coats of Army Painter Kobold Skin
2 thinned down washes of Citadel Ogryn Flesh
Thinned down washes of Citadel Ogryn Flesh with Red Baal 50/50
Thinned down washes of Citadel Ogryn Flesh with Leviathan Purple 67/33 (Daniel suggest to add a bit of Asurmen Blue to the mix from above, but this was easier for me)
First Highlights with AP Kobold Skin and Citadel Lahmia Medium 50/50
Next Highlights with AP Kobold Skin and Vallejo Model Colour Basic Skintone 50/50
Highlights with just VMC Basic Skintone
Final Highlights with VMC Basic Skintone and Offwhite 50/50
You can see the colours that I used in the pictures above. Some of the washes aren't produced anymore, but I have a stock of them large enough for the 16 miniatures of this team. You can probably substitute them with other washes from Army Painter or the new Citadel products.
Next up where the first try runs for the jerseys. They should become bright yellow. Daniel brought along Citadel Glaze Lamenters Yellow. Amazing product, a single coat of that glaze on top of the white primer brought the result you see on the right. I tried a more mute approach, with Vallejo Golden Brown (you can use Iyanden Darksun if you have that) and 2-3 coats of Daemonic Yellow. I have to figure out, what the matching wash would be for the shadows on the yellow. But other than that, I like the way the yellow turned out. Of course needs wash and highlights.
After that, I'll paint the shoulder pads and helmets green. Currently setting up the colour pallet for those, I'm thinking of Greenskin by Army Painter as a mid-tone.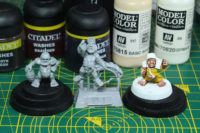 Daniel brought along the Forge World Halfling Referee for me. A really nice miniature, a pity how Forge World did a limited release on that blister, as it was only available for a couple of weeks. Unfortunately the scale doesn't work with any of the other Halflings, even the newer one and that guy is as tall as a human.
It was fun to paint again and really satisfied, how the skin turned out. It is a bit time consuming with the many steps, but I'll continue with that technique for that team. For other projects I'll probably simple it down, applying hard highlights before washing and down a single, precise step of highlights after the washes, like I did with my Cowboys.
The skype paint session is something we occasionally do, and it is a great way to keep in touch with some people and is rather easy to set up, even during a work week, especially if you have a set up work area. Just turn on the cam for 1-2hrs and see how you progress through your projects. Definitively something that I have to do more often and less of the reviews.
Enjoy this article?