This weekend, on saturday and sunday, April 27th and 28th 2019, the Rhein-Main-Multiversum will be held at Nidderau.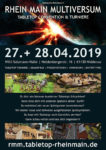 I've been there for the first time last year to the 6th event hosted by the Tabletop Club Rhein Main e.V. and was very satisfied with the event. It is close to Frankfurt, so very central in Germany and easy to reach by the Autobahn.
Saturday, 27.04.19: 10 a.m. til 8 p.m.
Sunday, 28.04.19: 10 a.m. til 6 p.m.
Willi-Salzmann-Halle
Heldenbergerstr. 16
61130 Nidderau
A couple pictures from my coverage of last year, 6. Rhein-Main-Multiversum 2018.
I, or better said, we will be there this weekend, as Dino will join me on that tour. We're am looking forward to meet some familiar faces from Sweetwater and TabletopWelt, as well as get to know new people and have a great day wargaming. So if you can put it into your schedule, feel free to drop by and say hello!
Link: Tabletop Club Rhein-Main
Enjoy this article?