As promised, I headed down into the "Palz" to Meckenheim, to visit the Ad Arma Convention 2019. New location, moved from the Sportshall in Speyer to the Gymnasium in Meckenheim.
Parking was a bit of an issue, if you came a bit late, you had to park along side the road or on the otherside on the parking lot of a Greek restaurant. After you've paid the 6 EUR entry fee, added one of the show miniatures to it, received your wrist band and were handed the ballot for "best table of the show", you could enter the hall itself through those roll ups.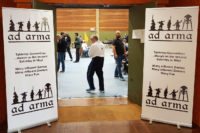 A spacious hall of a multipurpose sports venue is used for the event. A lot of space around the tables, and a L-shape row of traders framing the gaming area.
Right on the left after you enter was the bring & buy. Broad selection of items, some bargains, some ribaldries. But well, the hosts don't make the prices.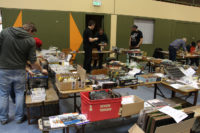 As for the traders, multiple booth of all kinds of shops from Germany were there. Ad Arma event managed to invite Gerard Boom / Shifting Land among others.
Stronghold Terrain was there, as a distribution partner for multiple games in Germany they had Dead Man's Hand, SAGA and Footsore products with them.
And added two participation rounds they showed earlier this year at Tactica in Hamburg. A gaming table for Gangs of Rome and for SAGA.
Thomarillion, who were at Rhein-Main-Multiversum just two weeks ago, was there as well, covering a lot of small and large terrain items, to add to your table.
After watching the amazing Big Burma Build of The Terraintutor, this table caught my eye. Using the large Hyrn Predator model (it is the limited one with the face mask) by Heresy Miniatures (I even painted one of these), the hunt was on. Unfortunately, due to the license given to Prodos Games, Heresy isn't allowed to sell the model anymore.
This table was shown at the Tactica in Hamburg as well, covering a large Asterix & Obelix scenario, including romans, the pirates, most of if not all of the town. Amazing table, it was nice to have a bit more time and space to give it a proper look compared to Hamburg.
And of course, a lot more tables to see.
But more on these in part II of the coverage.
Link: Ad Arma
Enjoy this article?
Like us on Facebook

Follow me on Instagram

Categories
Blogroll
Tags
Archives