On Tactica earlier this year, I got myself a bit of loot, among that one of the PK-Pro Punches.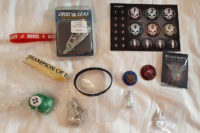 PK-Pro offers currently three different kind of these punches, with the motives of 4 different leaves each. I got the #2 Punch, as it has more complex shapes and wider leaves. It is not the first time, that I'm working with punches, I have a simple round punch with 25mm diameter, that I use for tokens, you can take a look over here - Knock out? Punch out!
These punches are well manufactured and quite stable. The punch is made from metal and there is a small insert, where you can put in the material, that you want to punch. The shapes are shown on top of the button and depending on which motives you have, the casing is a different colour, #1 orange-brown, #2 green and #3 black. The punches are available at 8,95 EUR each or as a bundle for 24 EUR for the three of them.
You can use a broad variant of materials to produce the leaves, I used the backpaper of a blister, tissue and coffee filter. You can use paper, thin card board or even actual leaves. The advantage of using actual leaves is the real colours, but you would have to properly dry / prepare them, to prevent them from rotting. Just put the leaves inbetween the pages of a book or and a stack of papers and put pressure on it. You could coat them in thinned down PVA or hard coat. When you're using paper or material like coffee filters, it makes sense to paint it before punching. The advantage of using tissue or filters is that they have a thin structure and thinned down colour or washes will tint them.
Softer material, like thin tissue paper will fray on the edges. That was one of the reason, why I used the coffee filter. You could use crumbled paper, as that will upgrade the structure of the material.
Those leaves are great not just for bases, but for decorating terrain as well. I have a couple of model trees, that I use on multibases, so I can use them to upgrade the foliage. Just make sure to seal the leaves on where ever you put them, as you would with flock or any other basing material.
Conclusion
As for the price, at roughly 9 EUR each they are at solid entry level and a punch or two will already cover a lot of projects and terrain pieces. They are a bit cheaper than for example the ones from GreenStuffWorld, or other similar products from the model kit tool range.
I like the fact that these punches can be used on a broad variety of projects. You're not really bound to a scale, as you could use them with 28mm up to 54mm, for smaller things like 15mm it will look out of place. I used the punches for some time and am amazed by the quality, as they still work great. Paper and other thin materials are easy enough on the material to not dull it down. I never that anything stuck in there, and you get a motherload of leaves from an A5 sheet of material. From the way they are manufactured, I guess as long as you don't use them on to thick material, they will go for a long run and you'll have fun for some time.
I suggest that you seal the leaves after assembly, not only to protect the material, but to keep it sturdy in place. But that goes for every kind of basing. I'll do some further tests on materials and keep you posted.
Link: PK-Pro wargaming and model building accessoires
The reviewed product item was provided by the manufacturer.
Enjoy this article?