Picking up a classic, Back to the Future, I bought the bundle blister Heroes 4 by Crooked Dice at Salute last year covering a not-Marty-McFly and not-Michael Knight (the later of course has nothing to do with BTTF). As I thought these would make a great addition to Zombie Survivors.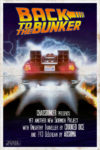 By chance I stumbled upon a 1:43 scale pull-back DeLorean by Aoshima on eBay. You can buy these for as little as 6 EUR, but mostly 10-12 EUR. So here we go. Why a DeLorean? Well, as a time machine, it can be used as a Gimmick on a lot of different tables and will work across different scenarios, like a Western table as in the third movie.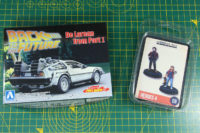 The whole kit is a very simple build. With multiple materials. The windshield is a semi-translucent black plastic, the body a shiny-metallic grey and the tires are made from rubber. The instructions are printed inside of the packaging, which saves material and due to the fact that it is not very complex, a functional way to cover them.
As this is a pull back and release toy, which happens to be in a wargamer friendly scale, that's the first thing you need to build. No parts were glued, just pushed together. As you can see, you wouldn't even need a primer, some wash would probably be enough to bring this to a game-ready status.
A brief comparison next to the not-Marty McFly and for the sake of completeness with not-Michael Knight.
So far, so good, but where do I now find a KITT in 1:43 to 1:50?
Aoshima covers the two other variants of the DeLorean from the second and third movie as well, if you want to go that far for detail.
Enjoy this article?